When it comes to Halloween, chocolate and Halloween decor go hand in hand. From delectable chocolate haunted houses to adorable Halloween chocolate crafts, there are endless ways to incorporate the sweet flavor of chocolate into your spooky celebrations. In this article, we will explore some delicious snacks and edible Halloween decor ideas that will add the perfect seasonal flair to your festivities. So, gather your supplies and get ready to indulge in the delightful combination of chocolate and Halloween decor!
Edible Halloween Decor: Chocolate Haunted Houses
One of the most popular Halloween chocolate crafts is creating edible haunted houses. These sweet and spooky treats are not only visually appealing but also a hit with kids and adults alike. To create your own chocolate haunted house, you will need some Halloween cookies, frosting, and a variety of candy decorations.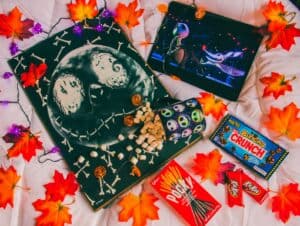 Start by baking or buying some chocolate cookies in the shape of haunted house walls and roofs. Once the cookies are cooled, it's time to get creative with your decorating skills. Use frosting to "glue" the walls and roofs together, and then add windows, doors, and other spooky details using icing piped from a small plastic bag or piping bottles.
Now comes the fun part – adding the candy decorations! Use candy corn, chocolate bones, gummy worms, and other Halloween-themed candies to bring your haunted house to life. Let your imagination run wild as you create a spooky scene complete with ghosts, bats, witches, and pumpkins. You can even use chocolate brownies as a base for your haunted house, creating a delicious and decorative treat that is sure to impress.
Halloween Chocolate Crafts: Tips and Ideas for Creating Delicious Treats
In addition to chocolate haunted houses, there are plenty of other Halloween chocolate crafts you can create to satisfy your sweet tooth. Here are some ideas and tips for creating delicious treats with a spooky twist:
1. Chocolate-Covered Pretzel Rods: Dip pretzel rods into melted chocolate and decorate them with Halloween-themed sprinkles, candy eyes, and other decorations. These crunchy and sweet treats are perfect for a Halloween party or as gifts for friends and family.
2. Candy-Coated Apples: Dip apples into melted chocolate or caramel, and then roll them in crushed candy corn or other Halloween candies. These festive and flavorful treats combine the flavors of fall with a touch of Halloween sweetness.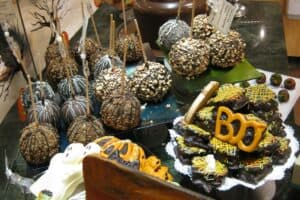 3. Pumpkin-Shaped Truffles: Create bite-sized pumpkin-shaped truffles by rolling chocolate ganache into small balls and coating them in orange chocolate. Decorate with green frosting or sprinkles to mimic the appearance of a pumpkin.
4. Witch's Brew Hot Chocolate: Create a warm and rich hot chocolate by mixing cocoa powder, milk, and a touch of dark chocolate. Top it off with some marshmallows shaped like witches' hats or broomsticks for an extra festive touch.
No matter what Halloween chocolate craft you choose to create, remember to have fun and let your creativity shine. Experiment with different flavors, textures, and decorations to find the perfect combination that will make your treats a hit with your family, friends, and party guests.
Final Thoughts: Chocolate and Halloween Decor
Chocolate and Halloween decor make for a match made in holiday heaven. Whether it's creating chocolate haunted houses, decorating Halloween cookies, or trying out other festive chocolate treats, the combination of these two elements adds a delicious and fun touch to the spooky season. So gather your supplies, channel your inner witch or wizard, and let your imagination run wild as you create edible Halloween decor that will delight both your taste buds and your eyes. With a little bit of chocolate and a whole lot of creativity, you'll be able to create the perfect Halloween treats that will have everyone coming back for seconds. Happy Halloween!