Wondering how do you make chocolate ganache? Then, you've come to the right place. Chocolate ganache is a silky and decadent sauce made from chocolate and cream. It can be used in a variety of desserts, from simple chocolate cake to elegant chocolate truffles.
Whether you want to drizzle it over fresh fruit, use it as a filling for pastries, or frost a cake with it, chocolate ganache is a versatile and delicious addition to any dessert.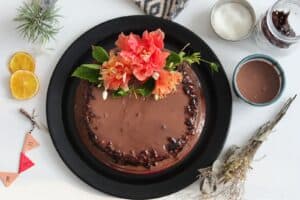 How Do You Make Chocolate Ganache?
You will need the following ingredients for the chocolate ganache recipe:
– 8 ounces of chocolate (either semi-sweet, milk chocolate, or dark chocolate)
– 1 cup of heavy whipping cream
There are a few different methods for making chocolate ganache, depending on the desired consistency and application. Here, we'll walk you through the basic steps of making a classic chocolate ganache.
First, chop the chocolate into small pieces. This will help it melt evenly and quickly. You can use chocolate chips or chopped chocolate for this step. Choose the type of chocolate that best suits your taste preferences – whether it be semi-sweet, milk, or dark chocolate.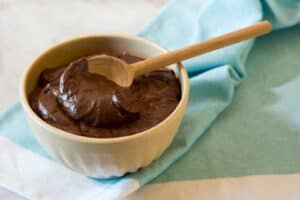 Next, heat the heavy cream in a saucepan over medium heat until it simmers. You can also heat the cream in the microwave until it is warm, but be careful not to overheat it. It should be warm to the touch, but not boiling.
Once the cream is warm, pour it over the chopped chocolate in a heatproof bowl. Let it sit for a minute or two to allow the chocolate to soften and melt. Then, gently stir the mixture until the chocolate is completely melted and smooth. If the chocolate is not melting completely, you can place the bowl over a pot of simmering water, creating a double boiler effect. Stir until the chocolate is fully melted and the ganache is smooth.
Now that your ganache is ready, you can use it immediately for a warm ganache, or let it cool at room temperature until it thickens to a spreadable consistency. If you need the ganache to cool more quickly, you can place it in the refrigerator for about 30 minutes to an hour. Just be sure to stir it occasionally to prevent a skin from forming on top.
If you are using the ganache as a frosting or filling for a cake, it can be whipped chocolate ganache to create a lighter and fluffier texture. To whip the ganache, transfer it to the bowl of a stand mixer fitted with a whisk attachment, or use a handheld mixer. Whip the ganache until it becomes light and fluffy, about 2-3 minutes. This whipped ganache can be used to frost cakes or as a filling for pastries.
If you want to make a white chocolate ganache, simply replace the semi-sweet chocolate chips with white chocolate chips in the recipe. The process remains the same, and you will still achieve a creamy and delicious ganache.
Once you have made your chocolate ganache, you can store it in an airtight container in the refrigerator for up to two weeks. When you want to use it, simply let it soften at room temperature or gently warm it in the microwave or on the stove.
In conclusion, making chocolate ganache is a simple and rewarding process. With just two ingredients – chocolate and cream – you can create a decadent sauce that can elevate any dessert. Whether you choose to make a classic chocolate ganache, a whipped ganache frosting, or a white chocolate ganache, the possibilities are endless. So, go ahead and indulge in the velvety smoothness of chocolate ganache in your next dessert creation!