Looking for things to dip in chocolate that'll satisfy your sweet cravings? Whether you're hosting a party, celebrating a special occasion, or simply enjoying a quiet night in, there's something incredibly satisfying and fun about dipping an array of treats into melted chocolate. From chocolate fondue fountains to quick and easy recipes, we've got you covered. We'll provide a list of delicious snacks perfect for dipping and some tips to elevate your chocolate dipping experience.
Dark chocolate, milk chocolate, and even white chocolate – the choice is yours and the possibilities are endless. Popular dipping options for a chocolate fondue or a chocolate fountain include strawberries, graham crackers, marshmallows, and pretzel rods. But why not get creative and explore new flavors? Imagine savoring potato chips dipped in chocolate or dunking apple slices into a velvety chocolate ganache.
With our ultimate list of items to dip in chocolate, you'll discover new flavor combinations that will tantalize your taste buds. From sweet to savory, and even some surprisingly delicious pairings like bacon or dried fruit, rest assured that there's a chocolate-dipped treat for everyone. So gather your ingredients, prepare your favorite chocolate, and get ready to indulge in the joy of dipping!
Fruits That Pair Well with Chocolate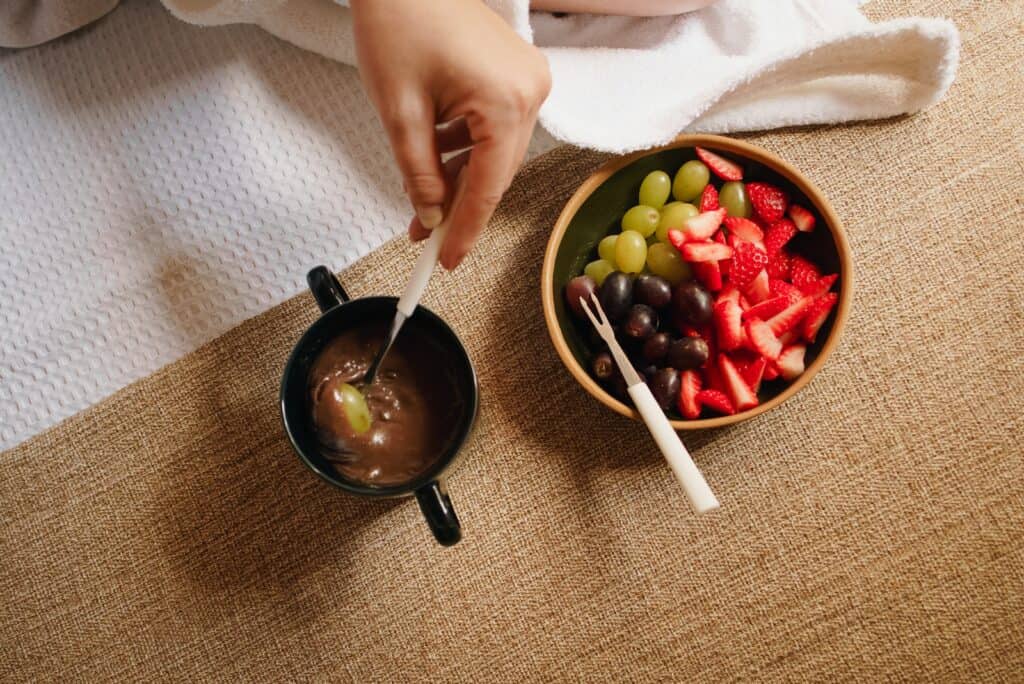 When it comes to things to dip in chocolate, fruits are a classic choice. The combination of sweet fruit and rich chocolate creates a delectable treat, perfect for any occasion. In this section, we'll explore a variety of fruits that pair exceptionally well with different types of chocolate.
Dark chocolate tends to have a more robust, intense flavor that complements fruits with a slightly tart taste. Examples of such fruits include:
Strawberries
Raspberries
Blackberries
Cherries
Kiwi
Pineapple
Orange slices
These fruits can be dipped in chocolate ganache, enjoyed with a chocolate fondue fountain, or coated in melted chocolate chips to create a delicious dessert.
Milk chocolate, on the other hand, is sweeter and creamier than dark chocolate. It pairs exceptionally well with fruits that are milder in flavor and perhaps more on the sweet side. Examples include:
Banana slices
Apple slices
Pears
Grapes
Mango
Cantaloupe
Watermelon
A chocolate fountain or fondue with milk chocolate creates an opportunity for easy chocolate fondue recipes that showcase the delightful pairing of these fruits and milk chocolate.
White chocolate can be particularly indulgent when combined with fruits. Although not technically chocolate, its smooth, creamy texture and sweet flavor make it an excellent choice for dipping. Fruits that work well with white chocolate include:
Strawberries
Raspberries
Blueberries
Peaches
Nectarines
Apricots
In addition to using a chocolate fondue fountain, you can also dip individual pieces of fruit into melted white chocolate and let them set on a parchment-lined tray. Chocolate-dipped strawberries or raspberries are especially popular for special occasions and make an elegant party treat.
Dried fruits can also be delicious when paired with chocolate. Consider dipping dried apricots, figs, or dates in melted chocolate for a unique and satisfying snack. These can be dipped in dark, milk, or white chocolate, providing a versatile option for various tastes.
Experimenting with different types of chocolate and fruits can lead to discovering new and exciting flavor combinations. Don't be afraid to try unique pairings and indulge in the delightful world of fruits dipped in chocolate.
Sweet and Salty Snacks to Dip
Searching for things to dip in chocolate? You've come to the right place! Let's dive into the ultimate list of sweet and salty snacks that you can dip in your chocolate fountain or fondue.
Dark chocolate, white chocolate, and milk chocolate all make great choices for dipping. For an easy chocolate fondue recipe, just melt chocolate chips with a little vegetable oil and keep it warm in a chocolate fondue fountain or pot. Now, what are some perfect dippables for your melted chocolate?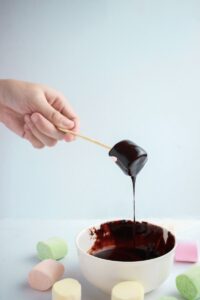 Potato chips: They're crisp, salty, and oh-so-good when dipped in chocolate. You can also try pretzel sticks or pretzel rods for another salty snack option.
Graham crackers: These sweet biscuits are just begging to be coated in delicious chocolate.
Apple slices: Juicy and sweet apple slices add a fresh twist to your chocolate dipping experience. You can try other fruit options like orange slices, banana slices, or pineapple chunks.
Marshmallows: These fluffy sweets are already great by themselves, but dip them in chocolate and you've got a heavenly treat.
Strawberries: A classic choice, chocolate-dipped strawberries are always a hit. If you're feeling adventurous, try dipping blackberries or watermelon slices in chocolate too.
Pretzels: This sweet and salty combo is irresistible. Experiment with different shapes and sizes like pretzel sticks, pretzel rods, and even pretzel crisps.
Animal crackers: Kids will have more fun dipping these simple biscuits in chocolate.
Cookies: Chocolate chip cookies, Oreos, or any of your favorite cookies will taste even better when dipped in chocolate.
Almonds: For a healthier option, try dipping almonds or other nuts in dark chocolate.
Bacon: That's right! Crispy bacon dipped in chocolate creates a mouth-watering surprise for your taste buds.
Aside from these popular choices, you can also have fun experimenting with new dip ideas. Try dipping churros, popcorn, gummy bears, or even dried fruit like apricots and raisins. With a chocolate fondue or fountain, the possibilities are endless and the result is always delicious.
Here's a quick list of other snacks you can try dipping:
Cheese cubes
Caramel squares
Cake cubes
Waffle bites
Coconut macaroons
Brownie bites
Peanut butter-filled pretzels
Remember, there's no right or wrong when it comes to choosing things to dip in chocolate. Let your imagination run wild and create your own unique dipping combinations. Happy dipping!
Decadent Desserts with a Chocolate Twist
When you're craving something sweet and indulgent, things to dip in chocolate can hit the spot. There's a whole world of mouthwatering possibilities to explore, and a chocolate fondue or fountain can be a showstopper at your next party.
First things first, let's talk about the chocolate itself. You can play with dark chocolate, milk chocolate, and white chocolate to create contrasting flavors and visuals. An easy chocolate fondue recipe typically calls for melting chocolate chips with a bit of vegetable oil or using a pre-made chocolate ganache. Whichever route you choose, ensure you maintain the proper temperature to prevent the chocolate from seizing or scorching.
Now, onto the dippers! Here are some scrumptious options that can be dipped in chocolate for a delightful dessert experience: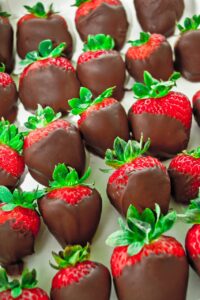 Fresh fruit: strawberries, apple slices, orange slices, banana slices, and pineapple pieces all pair well with chocolate, making for a healthier option
Dried fruit: dried apricots or figs taste amazing when drizzled with melted chocolate
Savory bites: pretzel sticks, pretzel rods, potato chips, and even bacon can be the perfect salty-sweet combo with a chocolate coating
Sweet treats: graham crackers, marshmallows, animal crackers, chocolate chip cookies, Oreos, and gummy bears all take on a new level of delicious when dipped in chocolate
Unexpected delights: almonds, hazelnuts, coffee beans, and churros can add an interesting spin to your chocolate-dipped spread
A chocolate fondue fountain makes for a fun and interactive dessert option, especially for kids (and let's be honest, adults too). To make the most of your fountain, cut larger items like fruit and cake into smaller pieces, making for easy dipping. Experimenting with different chocolate types in the fountain can also keep things exciting and surprising.
Remember, there's no one-size-fits-all approach to dessert – the beauty of chocolate-dipped delights lies in their versatility. Don't be afraid to get creative, and maybe you'll discover your new favorite indulgence. Happy dipping!
Final Thoughts
Throughout this article, you've discovered an enticing world of things to dip in chocolate, from classics like strawberries and pretzels to unique options like bacon and popcorn. With so many options available, it's no wonder chocolate fondue fountains and simple melted chocolate recipes are popular party additions.
When choosing your chocolate, consider the various types available. Dark, milk, and white chocolate each offer a different flavor profile to suit your preferences and the items you're dipping. Pair graham crackers and chocolate chip cookies with milk chocolate, while apple slices and banana slices complement dark chocolate perfectly. When using a chocolate fountain, always refer to the manufacturer's guidelines for the proper chocolate and vegetable oil ratios to ensure a smooth flow.
Did you know there's more to a chocolate fondue fountain than just sweets? Don't be afraid to try an array of savory fruits like orange slices and dried fruit. Crunchy potato chips, pretzel rods, and pretzel sticks will also satisfy your salty cravings when dipped in rich, creamy chocolate.
Ready for something completely different? Coffee beans, gummy bears, and animal crackers all make interesting and delicious dippers for your chocolate fondue fountain. No matter the occasion or your taste preferences, you'll surely find a dipper among this list that appeals to you.
In the end, the ultimate list of things to dip in chocolate is truly limitless. From fruits and snacks to sweets and savories, there's something for everyone to enjoy. It's the perfect treat for parties or just a cozy night in. So go ahead—grab your melted chocolate and start experimenting. Who knows, your next great idea to dip in chocolate might just become your favorite thing to eat!