Halloween is a festive holiday celebrated in many countries around the world, and the association of chocolate with this spooky holiday is undeniable. In this article, we will explore the international chocolate traditions on Halloween and how different cultures celebrate this occasion. From trick or treating to Halloween parties, the consumption of chocolate plays a significant role in this holiday season.
Halloween Around the World
While Halloween is widely celebrated in North America, its origins can be traced back to the ancient Celtic festival of Samhain in the British Isles. This special holiday marked the end of the harvest season and the beginning of winter, where it was believed that evil spirits roamed the earth. To ward off these spirits, people would wear costumes and light candles in what is now called jack-o-lanterns.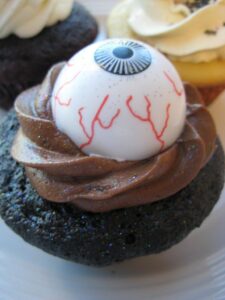 International Halloween Chocolates
One of the most popular international chocolate traditions on Halloween is the exchange of treats between children and households. Known as "trick or treating," kids dress up in scary costumes and go from door to door, receiving individually wrapped candies and chocolates in exchange for saying "trick or treat." This tradition has spread from North America to various parts of the world, delighting children and satisfying their sweet tooth.
International Chocolate Traditions on Halloween
1. United States
In the United States, Halloween is a highly anticipated holiday. Children and adults alike indulge in halloween candy, including iconic treats like candy corn and candy apples. Halloween parties are popular, where scary costumes, themed decorations, and spooky activities like apple-bobbing and fortune-telling take center stage.
2. Ireland
Ireland, the birthplace of Halloween, celebrates this holiday with traditions deeply rooted in ancient Celtic traditions. Soul cakes, which are sweet cakes made with spices and currants, are traditionally given to children who go door to door, similar to the modern-day trick-or-treating. This practice symbolizes the exchange of food and drink for prayers to remember the dead.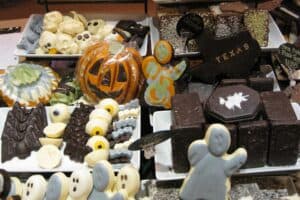 3. Mexico
In Mexico, Halloween is part of a larger celebration called Dia de los Muertos, or Day of the Dead. During this holiday, sugar skulls and chocolate coffins are commonly made and shared. Families gather to honor and remember their deceased loved ones, offering them food and drinks, including their favorite chocolate treats.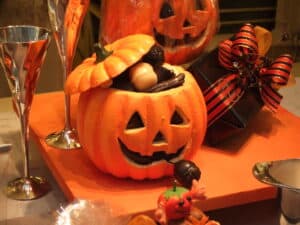 4. Japan
Halloween has gained popularity in Japan in recent years, and the celebration has adapted to the country's unique culture. In addition to children dressed in costumes going door to door for treats, Halloween parties and events are held in various locations. Japanese candy companies also introduce limited-edition Halloween-themed chocolates to cater to the growing demand.
Halloween Chocolate and World War II
The tradition of trick or treating for candies and chocolates as we know it today began to take shape in the early 20th century. However, it wasn't until after World War II that it gained widespread popularity. At this time, commercially produced individually wrapped candies became more accessible and affordable, allowing for a safer and more convenient way for children to celebrate Halloween.
Conclusion
As Halloween continues to evolve and adapt in different parts of the world, the role of chocolate in this holiday remains constant. From ancient Celtic Halloween traditions to modern times, the exchange of treats and the indulgence of sweets have become synonymous with the Halloween season. No matter the country or culture, children and adults alike can be seen enjoying the delicious pleasures of chocolate as they celebrate the spooky festivities of Halloween.