If the thought of savory chocolate recipes intrigues you, you're certainly not alone. Many people are experimenting with chocolate in unusual and delicious ways. With the rich and intense flavors of cocoa powder and various types of chocolate, there's a surprising versatility to these recipes – and maybe it's time you gave them a try! Whether you're a seasoned cook or new to the culinary scene, these savory chocolate dishes will have you pleasantly surprised at how well chocolate can meld with non-dessert ingredients.
One of the most popular savory recipes incorporating chocolate is mole sauce. This traditional Mexican dish is a thick, flavorful sauce combining ingredients such as cocoa powder, dark chocolate, chili powder, red wine, fresh garlic, tomato paste, and kosher salt. Mole sauce is typically served with chicken, and the combination creates an irresistible taste bud explosion. Just be sure to serve the mole sauce over the meat, allowing it to fully absorb those rich, smoky flavors.
Another savory recipe that's sure to please is a Bean chili with a twist. Give your usual chili recipe a chocolatey upgrade by adding unsweetened cocoa powder or Mexican chocolate, stewed tomatoes, chicken stock, and cayenne pepper to the mix. You might even consider adding a bit of white chocolate or bittersweet chocolate for added depth and sweetness. Trust us, your taste buds will thank you for this adventurous change.
Savory chocolate dishes don't have to stop there. Experiment with dark brown sugar and unsweetened cocoa powder in savory dishes like roasted vegetables or tomato sauce. Your culinary creativity, combined with the amazing flavors chocolate brings, can elevate your cooking skills and show off just how deliciously versatile chocolate can be!
Exploring the World of Savory Chocolate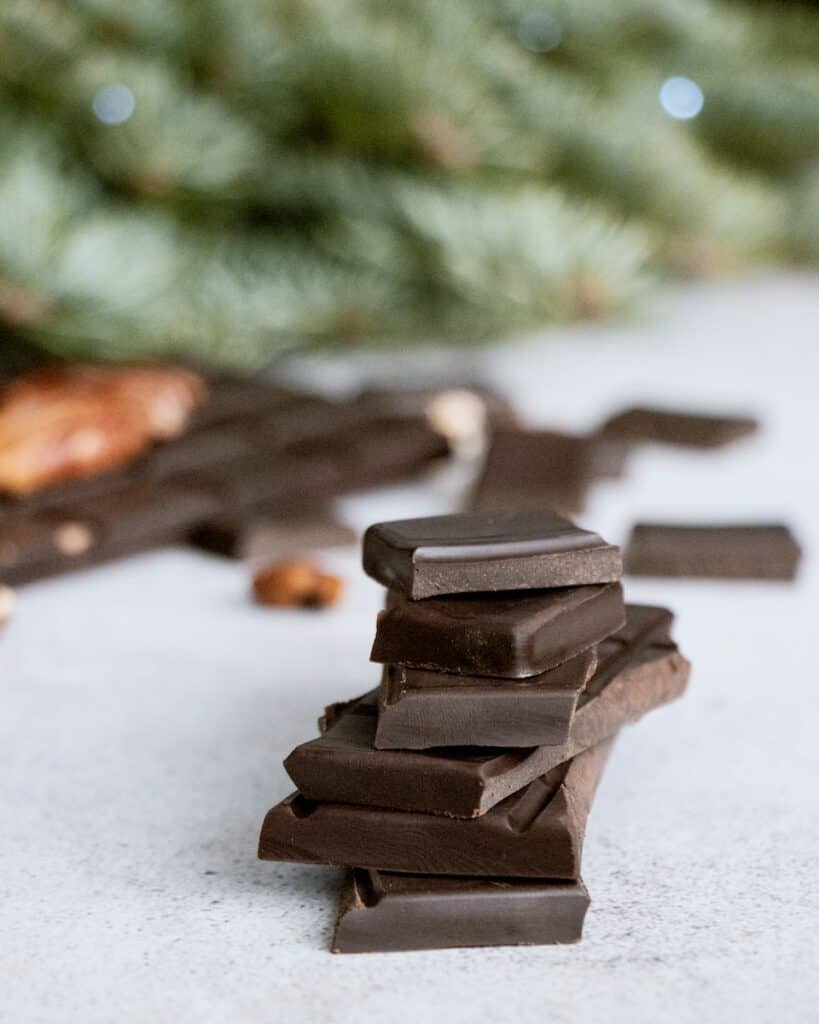 When you think of chocolate, you probably imagine desserts and sweet indulgences. But have you ever considered savory chocolate recipes? That's right, chocolate can be an amazing ingredient in savory dishes, offering a depth of flavor that complements other ingredients in surprising and delicious ways.
One way to incorporate chocolate into savory recipes is by using cocoa powder. This pantry staple can add a rich and complex note to a variety of dishes, from a smoky chocolate chili to a mole sauce. For example, in a bean chili recipe, you can combine cocoa powder, chili powder, onion, spices, and stewed tomatoes for a hearty and flavorful meal.
Another popular ingredient for savory chocolate is dark chocolate. Often used in Mexican cuisine, this chocolate pairs particularly well with spices and heat. For instance, try using dark chocolate to make a traditional mole sauce with ingredients like tomato paste, onions, and a mix of spices, including chili powder and cinnamon.
Olive oil and unsalted butter can also be used to enhance savory chocolate dishes. In chocolate sauce recipes, swapping out the typical vegetable oil with olive oil can add an unexpected and delicious richness. For another twist, consider combining unsweetened cocoa powder, dark brown sugar, and kosher salt to make a chocolate vinaigrette that can be drizzled over grilled chicken, meat, or vegetables.
Now let's dive into some specific savory chocolate recipes that are sure to surprise and delight your taste buds:
Mexican Chocolate Chicken: The key to this dish is a rich mole sauce featuring bittersweet chocolate, unsweetened cocoa powder, and a combination of savory ingredients like onion, fresh garlic, tomato paste, and cayenne pepper. Simmer the sauce over medium heat until it thickens, and serve over roast or grilled chicken.
Chocolate Chili: Both semisweet and unsweetened chocolate are included in this bean chili, adding depth alongside chili powder, cumin, and other spices. Medium heat helps meld the flavors together, and for a final touch, add tomato paste and a bit of red wine.
Chocolate and Red Wine Braised Meat: This outstanding dish combines red wine, bay leaf, and brown sugar with bittersweet chocolate to create an indulgent, melt-in-your-mouth sauce. Cook your chosen meat, such as beef or lamb, slowly in a large pot until desired doneness, and serve immediately for the best results.
The world of savory chocolate offers an extraordinary culinary experience, with countless ways to incorporate cocoa and chocolate into delightful year-round dishes. Whether you're a fan of dark, milk, or white chocolate, there's a savory recipe out there just waiting to be tasted. Experiment with different types of chocolate, spices, and ingredients to create your very own masterpiece – you'll be pleasantly surprised by the fabulous flavors that await.
Unexpected Combos: Chocolate and Cheese
When it comes to savory chocolate recipes, you might be pleasantly surprised by unexpected combinations – like chocolate and cheese. Yes, you read that correctly, and we have some amazing recipes to share that will undoubtedly expand your culinary horizons.
One delicious recipe to try is a cocoa crusted Brie cheese with chocolate sauce. To make this dish, simply mix unsweetened cocoa powder, kosher salt, and black pepper. Roll a wheel of Brie cheese in the cocoa mixture until fully coated. Drizzle with olive oil, then bake until the cheese is soft and gooey. Serve alongside a rich chocolate sauce made from bittersweet or semisweet chocolate, unsalted butter, and a hint of cinnamon. Pair with your favorite crackers or toasted bread, and you'll find yourself falling in love with this unique twist on a classic favorite.
Other savory recipes that feature chocolate and cheese creations include:
White chocolate mac and cheese: Melt white chocolate into your favorite mac and cheese recipe for a surprisingly rich and creamy dish.
Dark chocolate grilled cheese: Try adding a small amount of finely chopped dark chocolate to your grilled cheese sandwich for an unexpected burst of flavor.
Chocolate vinaigrette: Blend cocoa powder, balsamic vinegar, olive oil, and a touch of brown sugar, then drizzle over a fresh salad topped with crumbled goat cheese.
For bolder palates, venture into Mexican-inspired cuisine with a satisfying chocolate-based mole sauce. A blend of chiles, spices, and Mexican chocolate creates a savory, rich, and smoky sauce that pairs beautifully with chicken or other meats. Preparing mole sauce requires the use of kosher salt, unsweetened cocoa powder, dark brown sugar, and tomato paste, among other ingredients. Keep in mind that this recipe may require adjustments in taste as you go, so don't be afraid to season with additional chili powder, cinnamon, or chocolate as needed. This savory chocolate mole sauce can transform even the most basic of chicken dishes into an extraordinary culinary experience.
Beyond these amazing recipes, challenge yourself to think beyond the typical sweet chocolate desserts, and explore the world of savory chocolate dishes. Whether it's incorporating cocoa nibs into a bean chili or drizzling a balsamic chocolate vinaigrette over a fresh salad, you'll discover that chocolate can elevate your savory dishes in unimaginable ways. So don't hesitate – grab your cocoa powder or dark chocolate, and start experimenting with these delectable savory chocolate recipes!
Spice It Up: Chocolate with Chili
When you're seeking savory chocolate recipes to spruce up your cooking repertoire, don't be afraid to experiment with bold flavors. Chocolate with chili is a popular combination, bringing together the rich taste of cocoa with the spiciness of chili powder. These ingredients can be incorporated into a variety of savory dishes, from sauces to main courses.

One of the most renowned dishes that combine chocolate and chili is Mexican mole sauce. This versatile sauce is made using dark chocolate, chili powder, chicken stock, tomato paste, and various spices. You might be pleasantly surprised by how the cocoa powder and savory spices create a smoky flavor that's both rich and satisfying.
To prepare a mole sauce, heat a few tablespoons of vegetable oil in a large pot over medium heat. Add onions, garlic, and chili powder, cooking until softened and fragrant. Stir in the tomato paste and cook for a few minutes before adding the dark brown sugar, chicken stock, and unsweetened cocoa powder. Bring the mixture to a simmer, and let it thicken. Just before serving, add semisweet or bittersweet chocolate to the sauce, stirring until melted. This savory chocolate and chili sauce can be served over chicken, pork, or even roasted vegetables.
If you're in the mood for a warm and comforting dish, consider making a bean chili infused with Mexican chocolate. Adding finely chopped dark chocolate or unsweetened cocoa powder to your chili recipe will enhance the deep flavors and add a layer of richness. Simply brown your choice of meat (e.g., beef, chicken, or turkey) in a pan with olive oil and onions. Stir in beans, stewed tomatoes, cayenne pepper, and chili powder, and let the mixture simmer until the flavors meld. Lastly, toss in the chocolate and stir until it melts into the chili.
For a unique twist on a classic vinaigrette, try creating a chocolate vinaigrette for salads or roasted vegetables. Start by whisking together unsalted butter, olive oil, red wine vinegar, and a small amount of unsweetened cocoa powder. Add a pinch of kosher salt, some freshly ground black pepper, and a touch of cayenne pepper for heat. This savory chocolate vinaigrette is the perfect topping for a warm, hearty salad or as a dipping sauce for crusty bread.
In conclusion, incorporating chocolate into your savory recipes opens up a world of flavorful possibilities. Whether you're trying your hand at mole sauce, crafting a bean chili with a twist, or spicing up your salads with a chocolate vinaigrette, you'll love the decadent result of combining chocolate and chili.
Beyond Dessert: Chocolate Pasta Dishes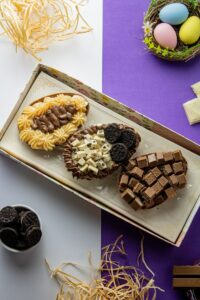 When delving into savory chocolate recipes, many delicious and unexpected dishes come to light. Among them, chocolate pasta recipes offer an exciting variation in the culinary world. By incorporating cocoa powder and dark chocolate into pasta dishes, you can create an exquisite fusion of flavors.
Using unsweetened cocoa powder, olive oil, and dark brown sugar adds depth and richness to your pasta. These savory recipes incorporate chocolate sauce as the key ingredient, elevating simple pasta dishes into mouthwatering creations. For example, try preparing a savory cocoa pasta with olive oil, unsalted butter, and bittersweet chocolate for an indulgent meal.
Another savory dish worth exploring is a tomato-chocolate sauce. Begin by heating vegetable oil over medium heat, add finely chopped onions, and cook until softened. Then, add tomato paste, stewed tomatoes, and a pinch of chili powder to the onions. Allow your sauce to simmer before stirring in semisweet or Mexican chocolate. This versatile chocolate sauce makes for a mouthwatering addition to spaghetti or pasta of your choice.
For those looking to create a rich and smoky flavor, consider a mole sauce, showcasing Mexican chocolate as the star ingredient. Cook onions with vegetable oil over medium heat, and add spices like cayenne pepper, cinnamon, and kosher salt. Include dark chocolate, chicken stock, and stewed tomatoes to form the sauce. This mole sauce is a delightful accompaniment for chicken-stuffed pasta dishes.
A chocolate vinaigrette brightens up pasta salads and serves as a delectable twist on traditional dressings. Combine white chocolate, olive oil, dark brown sugar, and a pinch of kosher salt for the base. Add red wine vinegar, fresh garlic, and a hint of cocoa powder to achieve a wonderful balance of flavors.
If you're searching for a hearty meal, look no further than a bean chili with a chocolate twist. Prepare large pot with olive oil and brown your desired meat, then add onions and spices like chili powder and cinnamon. Add beans, diced tomatoes, and season with salt. Finally, stir in semisweet chocolate for that deep rich flavor throughout the chili.
So, go ahead and experiment with these seemingly uncommon combinations crafted into savory chocolate pasta dishes, and you'll find yourself pleasantly surprised by their irresistible taste and appeal. After all, chocolate is not just for desserts anymore. The possibilities are endless and delectable when incorporating chocolate into your savory recipes year-round.
A Twist on Tradition: Chocolate Mole Sauce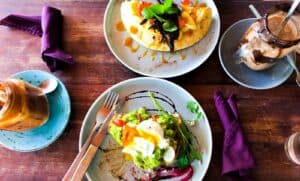 When you think of savory chocolate recipes, mole sauce might be one of the first dishes that come to mind. This traditional Mexican sauce is a perfect example of how chocolate can be incorporated into savory dishes, offering a unique and delicious flavor profile.
Mole sauce often features a blend of spices, such as cumin, cinnamon, and chili powder, combined with cocoa powder, or even Mexican chocolate, to create a rich, smoky sauce. The combination of sweet and savory elements is what sets this sauce apart from other recipes.
To make a basic chocolate mole sauce, heat vegetable oil in a large pot over medium heat. Add finely chopped onions and fresh garlic and cook until softened. Stir in chili powder, cayenne pepper, and cinnamon, followed by unsweetened cocoa powder. Next, add tomato paste, and stir until well combined. Gradually pour in chicken stock and stewed tomatoes. Bring the mixture to a simmer and let it cook for about an hour, stirring occasionally.
While the sauce is simmering, chop dark chocolate, or Mexican chocolate, into small pieces. Once the sauce has cooked for an hour, add the chocolate pieces to the pot, stirring until they have completely melted. Season the sauce with kosher salt and continue cooking for another 30 minutes. If you prefer a smoother sauce, simply use a blender or an immersion blender to puree the mole sauce to your desired consistency.
A versatile sauce, chocolate mole can be used in a variety of savory recipes, such as chicken enchiladas, bean chili, or even as a topping for grilled meats. Its rich taste pairs especially well with poultry, like chicken or turkey.
If you're feeling adventurous, don't hesitate to experiment with other savory chocolate dishes. You might be pleasantly surprised by the delicious results. For instance, a bittersweet chocolate vinaigrette can elevate your favorite salad, and mixing dark chocolate with olive oil and unsalted butter can create a delectable sauce for pasta.
Savory chocolate sauces like mole bring an exciting twist to traditional recipes and open up a whole new world of possibilities for chocolate lovers. So, why not give it a try and explore the full range of flavors that chocolate has to offer? No matter the dish, the unique taste of a savory chocolate addition is sure to impress.
The Final Bite
By now, you've learned many delicious savory chocolate recipes. No doubt, you're eager to incorporate cocoa powder and dark chocolate into your savory dishes. Using ingredients like olive oil, unsalted butter, and unsweetened cocoa powder – you'll be able to create standout dishes that are both rich and satisfying.
There are several different ways you can enhance your savory recipes with chocolate. First off, try using dark brown sugar to add an extra layer of depth and sweetness. In recipes that call for sauces, such as a chocolate sauce or mole sauce, consider using bittersweet or semisweet chocolate to balance the flavors. When making a chocolate vinaigrette, you can combine dark chocolate, cocoa powder, and a flavorful oil such as olive or vegetable oil.
In savory dishes, chocolate brings out bold and smoky flavors. Don't be afraid to experiment with adding ingredients like cayenne pepper, chili powder, and a touch of cinnamon to enhance these flavors further. In dishes like bean chili, mole sauce, and even some unique chicken dishes, you'll find that chocolate lends itself well to creating a harmonious blend of flavors for your taste buds to enjoy.
Play around with the cooking process, from medium heat to medium-high heat, to achieve the desired doneness in your savory chocolate dishes. When using white chocolate in your recipes, make sure to use it sparingly, as it's often much sweeter than dark chocolate or cocoa powder. To maintain a savory profile, use kosher salt to season your dishes appropriately.
So, you see, chocolate isn't just for desserts or baked goods. It is possible to introduce chocolate into your savory recipes in a variety of ways. You'll be pleasantly surprised just how well chocolate incorporates into many dishes, giving them complexity and richness that elevate the taste experience. With a little experimentation and creativity, you can create some mind-blowing savory chocolate dishes that you and your family will love all year round.
It's now time to put on your apron, grab your favorite ingredients and cooking tools, and embark on a savory chocolate adventure. Enjoy discovering new flavor pairings, melding together sweet and rich chocolate notes with bold, savory components for a culinary experience that you won't forget!
Other suggested articles: